SURVIVOR STORIES
Nat's Story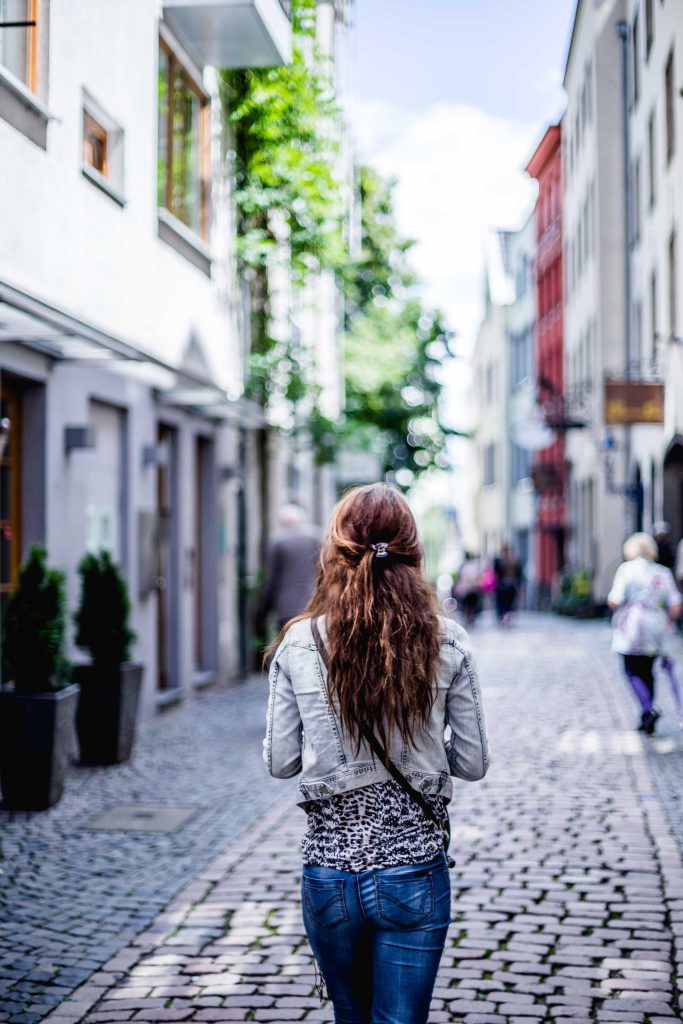 In the mid-1990s, Nat worked as a stockbroker in Montreal. Nat had made it a point never to date someone from work. "Never mix business and pleasure" had become her motto. Not because of any prior personal experience, just something she had decided at the beginning of her career that she would apply and stick to.
One day, her company hired a new guy to join her team. He was good looking, charming, smart, and funny. The first day on the job, he asks Nat out. She responds that while she is flattered, she has a strict personal rule to never date at work. He tells her he understands and leaves it at that. However, he remains persistent. Extremely persistent.
Undeterred, the co-worker continues to ask her out for six months But because they work long hours together (sometimes up to 50+ a week), they have developed an excellent working rapport. So, the asking out has turned into a joke; "So, Nat? How about it? You and me, Friday night? Come on, one day, I am going to break you!" he would tease. To which she would reply with a laugh, "No, no! I don't date people at work!". What starts to happen is the justification narrative in Nat's head. She starts to question her morals and rules.
She asks herself, "Why don't I date people at work? It's not like anything has happened before. I mean, he's handsome, smart, we work well together, he makes me laugh.
What if this could turn into something amazing? And even if it doesn't work out, we are both mature adults. I am sure we could end things amicably and not let it affect our professional relationship."
So, the next time he asks her out, to his surprise, she says, "You know what? Yes! Let's go out." He quickly takes advantage and suggests the upcoming Friday, at 7 o'clock. "I'll pick you up at 7! I know a great little place to eat."
Friday rolls around, he picks her up, and they have a wonderful evening together. He is a perfect gentleman; he opens doors for her, pulls out her chair, waits for her to take the first bite, makes her laugh, conversation flows naturally and easily.
Later on, he drives her home, and he doesn't even try and kiss her. He simply pulls up to her house and says, "Thank you, Nat, for letting me take you out. I had a great time, and I hope we can do it again sometime."
She says to him, "Well, it's only 9:30, we don't work tomorrow. Would you like to come in and have a drink?"
He accepts her offer.
Inside, she shows him around the place and tells him to make himself comfortable. "I'm going to run upstairs quickly and change into jeans and a t-shirt. Please make yourself at home, and I'll be right back."
She heads upstairs, changes, and then makes her way into the bathroom to wash her face. As she finishes washing her face, she raises her head to look in the mirror, where she sees him in the reflection, standing in the doorway, staring her down.
She has no idea how long he's been standing there, but her intuition immediately goes off that something is very wrong. She turns around and quickly has her hands up in a passive stance and asks him, "Hey, what's up? Did you need something?" He says nothing but begins to walk towards her, to which she asks, "Hey, how can I help you, man? What do you need?" He continues towards her and has now cornered her in the bathroom against the glass shower.
He grabs her wrists hard and pushes her aggressively against the shower door, restricting her spine, severely limiting her options of quick defense and says to her, "You know why you brought me here, bitch? You've been teasing me at work for the last six months!" What has he just told her, based on behavior, body language, and words? "I'm going to rape you now."
There is a significant size difference between the two of them. Nat is about 5'5, 120lbs, in great shape, but he is 6'1" and around 180lbs. The odds weren't good.
Nat had been training with Rich for about a year and a half at this point, so she understood the de-escalation rules of always being friendly, don't provoke them, or tell them they're wrong.
Using the strategy of destruction and deception to establish the element of surprise Nat replied with. She responds to him and says, "Well yeah, stupid! But do you want to do it here on the cold, hard bathroom floor? Or do you want to go into the bedroom where it's more comfortable?"
His immediate reaction is that of confusion; "Huh? Really?" he says, having loosened his grip on her wrists and weight into her, allowing her spine to become unrestricted from the shower doors.
"No!" she says and immediately throws a well-placed knee right into his groin, making him buckle forward.
Out comes Nat's palm strike, right under his chin. She knocked him out cold, broke his jaw, and severed the tip of his tongue. She ran out of her house, went to her neighbors, and immediately called the police.
The police show up and arrest him as he has now come to and (naturally), denies everything. He claimed they were getting intimate, but Nat went crazy and attacked him.
Since there are no witnesses, whom do they believe?
Police do their due diligence and investigate.
They check into Nat's life with a fine-toothed comb. The police are interviewing co-workers, ex- boyfriends, friends, and any other men in her life. "Does she make it a habit of knocking men out? Has she ever been violent? Any warning signs?" to which all said no, she was great, no warning signs or anything off about her. She was the consummate professional in all aspects of her life.
They also investigated him. It didn't take them long to discover he had a sealed juvenile delinquent record — multiple counts of assault, sexual assault, theft, and more.
He was charged and sentenced to 3 years but was out even sooner for good behavior.
Nobody heard from him again, but hopefully, this criminal record has assisted somewhat on keeping him away from as many women as possible.
Feel free to send us an email with any questions or comments you have.